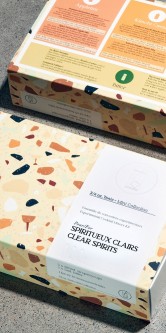 3/4 oz.
Mini Collection
Appletini / Mint and Basil Smash / Kimchi Caesar
This cocktail Kit is part of an experimental line of Mixers especially made for clear spirits-and non alcoholic drinks!
Content: 3 x 120mL Mixers + 1 x 5mL Bitter. Makes 12-15 cocktails
Appletini: A spicy Fermented Apple Mix- The tase of apple pie-without the sugar. This tart mixer made from lacto-fermented farmed apples is a perfect complement to a woodsy gin, the secret ingredient for your shaken Martini, or the backbone to a delicious Spritz when paired with sparkling wine.
Mint and Basil Smash: A hybrid of a Mojito and a Basil Smash is finally possible with this ultra fresh concentrate of mint, basil, and citrus balanced by delicate tones of anise. The perfect way to add vibrancy and colour to your cocktails and mocktails!
Kimchi Caesar: Up the ante on your classic Caesar. The ultimate umami mixer, made with kimchi juice, tomato and a vegan bonito. A splash of this concentrate in your favourite clear liquor will spice up your happy hour!
1 x 5mL Forest bitter: Made to fit with all 3 mixers, it brings your to a Nordic forest with its warm, magical aromas of evergreen trees and wild roots. The ideal partner for cold winter nights, as well as for gin and clear spirits.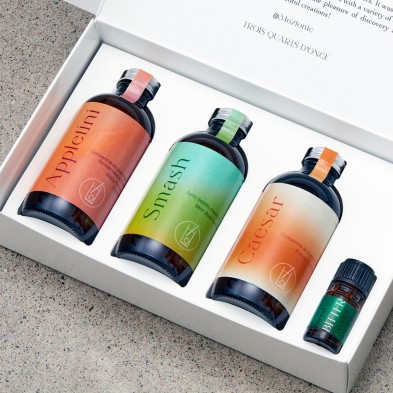 Steps
Appletini / Mint and Basil Smash / Kimchi Caesar
Appletini
Pair with: Vodka, Gin, Sparkling wine, Tequila
Non-alcoholic: Fizzy water, Ginger ale, Green or black tea
Kimchi Caesar
Pair with: Vodka, Gin, Beer, Tequila, Mezcal
Non-alcoholic: zero proof beer, Lemonade, Tomato juice
Smash
Pair with: Gin, Vodka, Tequila, White Rum, Pastis
Non-alcoholic: Fizzy water, Lemonade, Coconut water