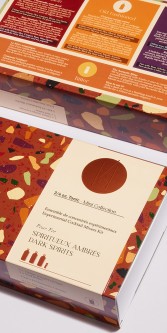 3/4 oz.
Mini Collection Dark
Vermillon / Old Fashioned / Coco Café
This cocktail Kit is part of an experimental line of Mixers especially made for dark spirits-and non alcoholic drinks!
Content: 3 x 120mL Mixers + 1 x 5mL Bitter. Makes 12-15 cocktails
Vermillon: The Non-Alcoholic "Vermouth'' Spelled Vermilion in English, the name refers to the vibrant orangish red color of this mix. Specially crafted to be an in between wine and Amaro, this fruity blend is made with orchard fruits, herbs and spices. You'll get juicy notes of grapes and cherries, added to subtle tannins and a light acidity.
Old Fashioned: Bitter Orange Classic for Old Fashioned Your Classic OF Mix- Only made with the good stuff. A rich blend of Demerara sugar, orange peel and bitter herbs and spices. The only thing you need is 3/4 oz. added to your favorite dark spirit. Add some drops of our aromatic bitter to obtain the perfect Old Fashioned.
Coco Café: Think toasted coconut, peppers, coffee and cocoa, with hints of tropical fruits. It pairs perfectly well with rum, tequila reposado or in addition to a dessert.
Bitter aromatique: We've partnered with Sombre et amer to elaborate this versatile bitter that reveals intense aromas. Think gingerbread, orange and wood bark. Inspired by classics, it blends marvelously with most dark spirits.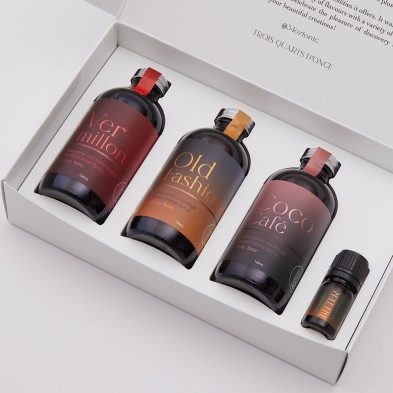 Steps
Vermillon / Old Fashioned / Coco Café
Vermillon
Par with: Whisky/Rye, Campari, Rhum, Wine/Spritz.
Non alcoholic: Fizzy water, Tonic, Iced Tea, Popsicle.
Old Fashioned
Par with: Bourbon/Rye, Mezcal, Tequila, Acerum.
Non alcoholic: Black tea, Fizzy water, Tonic, Lemonade.
Coco Café
Par with: Rhum, Whisky, Amaretto, Stout, Tequila.
Non alcoholic: Coffee, Ice Cream, Almond/Oat Milk.